---
Making the Call of Aortic Valve Choice in the Intermediate Risk Population in the Era of Transcatheter Therapy
elizabeth walsh, RN, Zachary Fox, Rachel Callahan, Mary Siki, Madeleine Walsh, Marisa Konig, RN, Laura Schuck, Laura Schuck, Matthew Williams, MD, Krimi Patel, Robert Li, MD, Jay Giri, MD, Saif Anwaruddin, MD, Nimesh Desai, MD, Wilson Szeto, MD, Howard Herrmann, MD, Joseph Bavaria, MD.
The University of Pennsylvania Hospital, Philadelphia, PA, USA.
OBJECTIVE: Transcatheter aortic valve replacement (TAVR) changed the paradigm for aortic valve replacement (AVR).Tools such as risk assessment and frailty have helped to guide Heart Teams in offering TAVR to appropriate patients.The purpose of this analysis is to examine an experienced Valve Center's outcomes in a randomized intermediate risk population (IRP).
METHODS: A retrospective review of a single site's prospective, randomized data of IRP treated with AVR or TAVR was compared.Gender, Society of Thoracic Surgery risk score (STS) along with frailty measurements:Grip strength,15-feet walk, albumin level and Katz Activity of Daily Living (ADLs) survey were collected.Morality and stroke of both cohorts were compared at 1 through 4 years.
RESULTS: 82 intermediate operable subjects were randomized and enrolled, 42 AVR and 40 TAVR.There were 18 AVR and 23 TAVR male subjects.The AVR arm had 2 subjects withdraw pre-op and 3 withdraw post-op.In the TAVR arm 1 pre and 1 post-op withdrew.The average STS of the AVR subjects was 5.23% (+/-0.24%) and 5.26% (+/-1.29%) in the TAVR population.The average frailty score for AVR was 1.63 and TAVR 1.65.The cumulative mortality of TAVR at 1-year through 3-years was 0% at 4-years 27.2%.While the cumulative mortality of AVR at 1-year was 12.5%, 2-years 20% and at year 3 and 4 was 22.5%.The freedom from stroke for TAVR at 1-year was 92.7% and 2 through 4-years 90.2% While the freedom from stroke for AVR was 94.9% at 1-year and years 2-4 was 92.1%.
CONCLUSIONS: With the evolution of TAVR valve selection has become more complex. Risk assessments like the STS and frailty testing can help support a decision. While not significant at 4-years, mortality and freedom of stroke KMs are minimally crossing favoring AVR.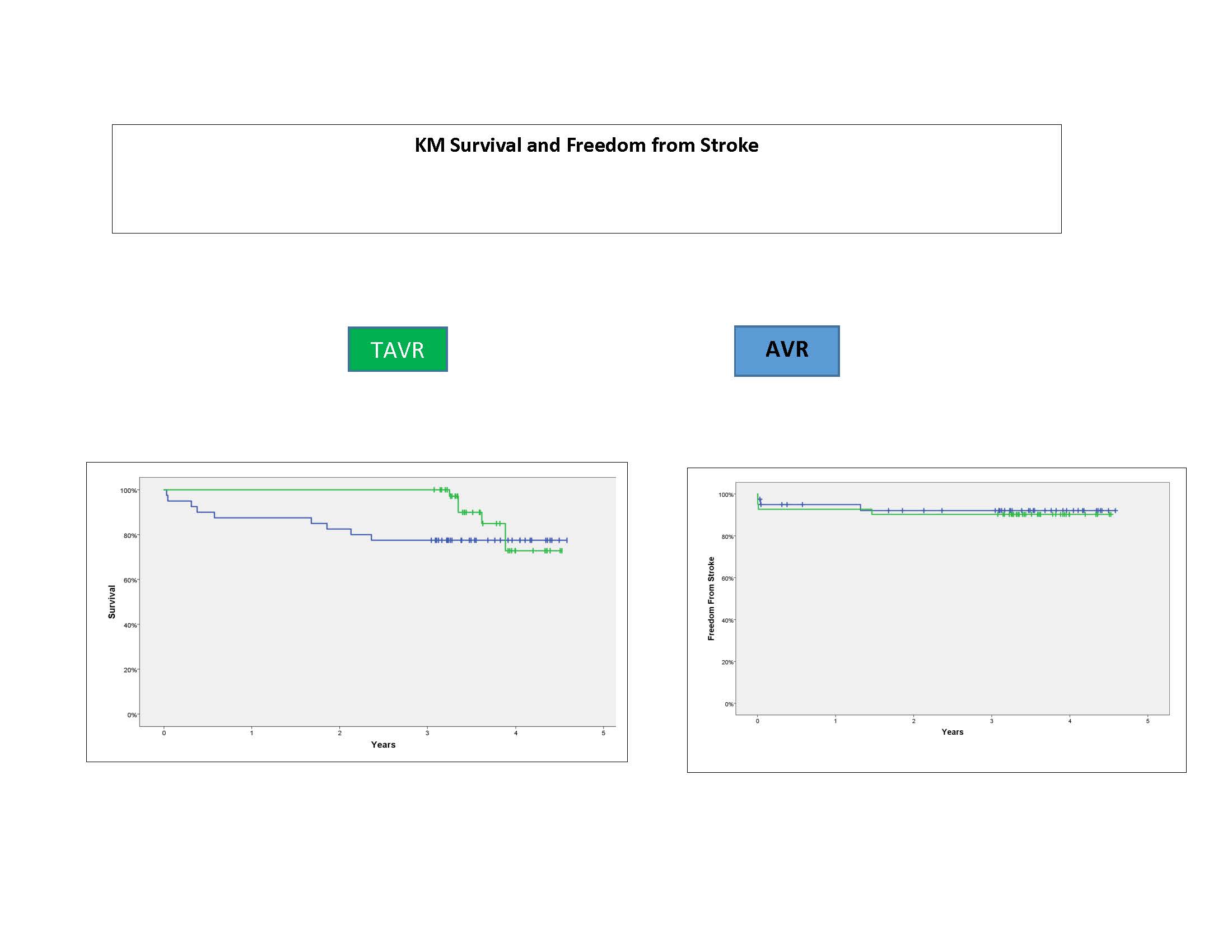 ---
Back to 2017 Program