---
Functional Tricuspid Regurgitation In Patients With Systolic Left Ventricular Dysfunction: Determinants, And Independent Prognostic Impact.
Giovanni Benfari, MD
1
, Clemence Antoine, MD
1
, Wayne L. Miller, MD, PhD
1
, Prabin Thapa, BS
1
, Andrea Rossi, MD
2
, Hector I. Michelena, MD
1
, Vuysile T. Nkomo, MD, PhD
1
, Maurice Enriquez-Sarano, MD
1
.
1Mayo Clinic, Rochester, MN, USA, 2University of Veorna, Section of cardiolgy, Italy.
Background: Functional tricuspid regurgitation (FTR) is frequent in patients with left ventricular (LV) dysfunction. However, its clinical implications are not fully understood. Aims of the study are to analyze the prevalence, clinical role, and prognostic impact of FTR in a large and well-characterized cohort of patients with LV dysfunction. Methods: All patients diagnosed with LV dysfunction (ejection fraction [EF] <50%) at Mayo Clinic 2003-2011 where FTR grade was assessed and pulmonary artery pressure (sPAP) was estimated. The presence of pacemaker or defibrillator, organic valve diseases, and previous valve surgery, were exclusion criteria. The primary endpoint was survival under medical management. Results: Among 13146 patients, FTR was detected in 88% (N=11507): 33% trivial, 32% mild, 17% moderate, and 6% severe. FTR patients were on average 68 ±14 years old, 35% (N=3991) female, EF 36 ±10%, sPAP 41 ±14 mmHg and 1/5 (N=2348) had atrial fibrillation (AF).
Major FTR determinants were elevated sPAP, ventricular dysfunction, mitral regurgitation, and AF (p<0.0001 for all). FTR was associated with relevant clinical consequences, as more dyspnea, impaired renal function, and lower cardiac output (p<0.0001 for all). The degree of FTR significantly affect the outcome unadjusted (Kaplan Meier curves in the Figure) as well as in a comprehensively adjusted model (HR:1.12 [1.05-1.20], p=0.0009; HR:1.34 [1.24-1.45], p<0.0001; HR 1.81 [1.61-2.02], p<0.0001; for mild, moderate, and severe FTR vs. trivial FTR). Conclusion: FTR severity is associated to serious clinical consequences, and has an independent prognostic role in patients with LV dysfunction. AF may contribute to FTR severity in all subsets of patients with LV dysfunction.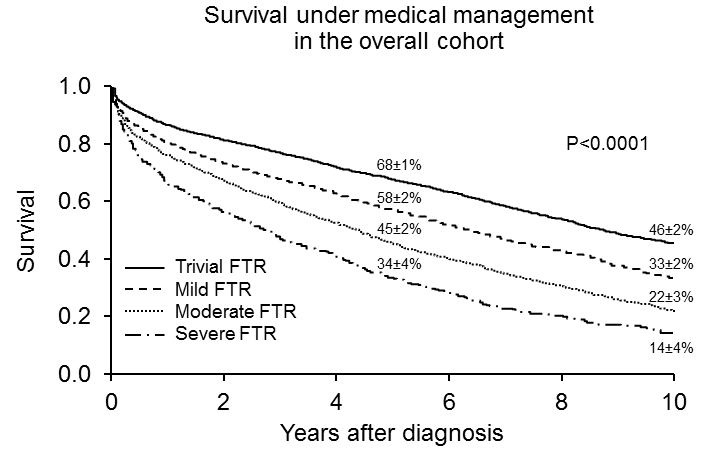 ---
Back to 2018 Program