---
A Leaflet Enhancing Implant To Treat Functional Mitral Regurgitation: In-vitro And In-vivo Efficacy Studies
Kirthana Sreerangathama Suresh
1
, Dongyang Xu
1
, Daisuke Onohara
1
, Takanori Kono
2
, Qi He
1
, Michael Silverman
1
, Muralidhar Padala
1
.
1
Emory University, Atlanta, GA, USA,
2
Kurume University, Fukuoka, Japan.
OBJECTIVE: Transcatheter approaches to effectively treat functional mitral regurgitation (FMR) in a wide range of patient anatomies without altering the native valve dynamics are needed for an optimal long-term outcome. We have developed a novel leaflet enhancing implant and report its functionality and efficacy results from in-vitro and in-vivo studies.
METHODS:Cardiac Leaflet Enhancer (CARLEN), manufactured from nitinol, was designed to be a miniature native leaflet augmenting implant that can be clipped onto one of the leaflets at the site of the regurgitation (Fig.1A,B). Using an in-vitro pulsatile flow loop setup (n=6), efficacy of CARLEN in FMR correction in 3 clinically relevant pathologies was assessed: 1)atrial FMR (aFMR) from annular dilatation (AD), 2)ischemic FMR (iFMR) from AD+Asymmetric tethering, and 3) dilated cardiomyopathic FMR (dFMR) from AD+Symmetric tethering. CARLEN's efficacy was tested in a swine model of MR (n=5), in which trans-ventricular snares were used to tether the chords and induce MR. CARLEN was deployed on the posterior leaflet under echo guidance with echocardiography performed before repair and after repair with CARLEN.
RESULTS:CARLEN consistently reduced FMR in all geometries in the in-vitro setup (Fig.3A-C): For >Size40 annulus size, Regurgitant Fraction (RF%) in aFMR reduced from14.79±3.11% to 6.79±1.9%, in iFMR reduced from20.52±2% to 6.64±2.16%, and in dFMR reduced from21.93±7.21 to 7.12±2.83%. Fig.4A-B shows color Doppler imaging before and after CARLEN implantation. RF% before CARLEN was 29.16%(24.89-38.63%) and decreased to 7.72%(7.3-17.51%) immediately after CARLEN deployment. Mean pressure gradient and posterior leaflet excursion angle were unchanged with CARLEN showing unrestricted leaflet mobility and diastolic filling after repair(Fig.5A-C).
CONCLUSIONS:CARLEN can effectively correct regurgitation in all FMR geometries without unphysiologically altering the native valve apparatus.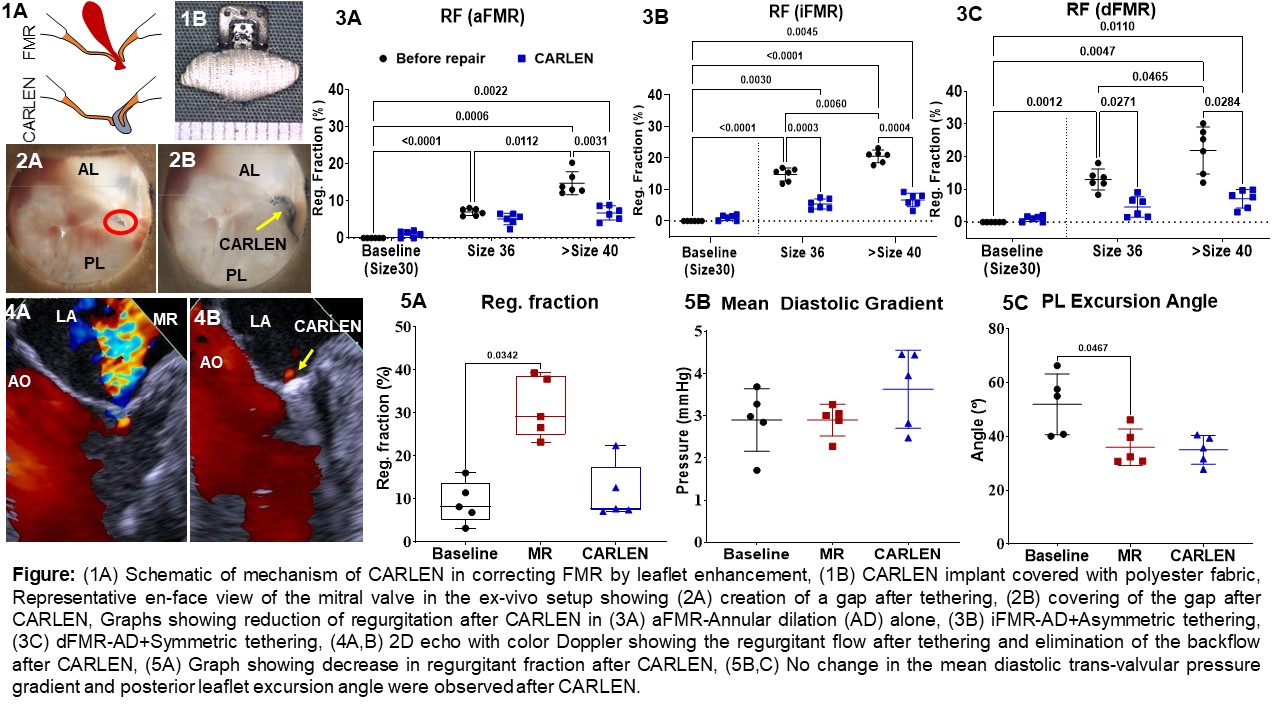 ---
Back to 2022 Abstracts