---
In Vitro Evaluation Of Decellularized Pericardium Based Transcatheter Aortic Valve For Development Of Regenerative Heart Valve Prosthesis
Sugat R. Tuladhar
1
, Sebastian Kaule
2
, Jan Oldenburg
2
, Niels Grabow
2
, Tobias Schilling
1
, Michael Stiehm
2
, Axel Haverich
1
, Klaus-Peter Schmitz
2
.
1
Hannover Medical School, Hannover, Germany,
2
Institute for ImplantTechnology and Biomaterials e.V., Rostock-Warnemuende, Germany.
OBJECTIVE:
Decellularized scaffolds which have the capability to grow and remodel when implanted in vivo, hold great potential for development of regenerative heart valve replacements. Our experience from clinical trials involving decellularized aortic and pulmonary homografts have shown that these valves undergo recellularization in vivo and have very low incidence of explantation. As a follow-up, the aim of this study was to conduct a thorough in vitro hydrodynamic characterization and particle image velocimetry (PIV) measurements of innovative decellularized porcine pericardium based transcatheter aortic valve replacements (TAVR).
METHODS:
Porcine pericardium was decellularized using hypotonic buffer, 0.5% TritonX-100 and 0.5% SDS. TAVR-prototypes (as shown below) were fabricated, following tubular valve design, by suturing decellularized pericardium onto self-expanding TAVI-stents.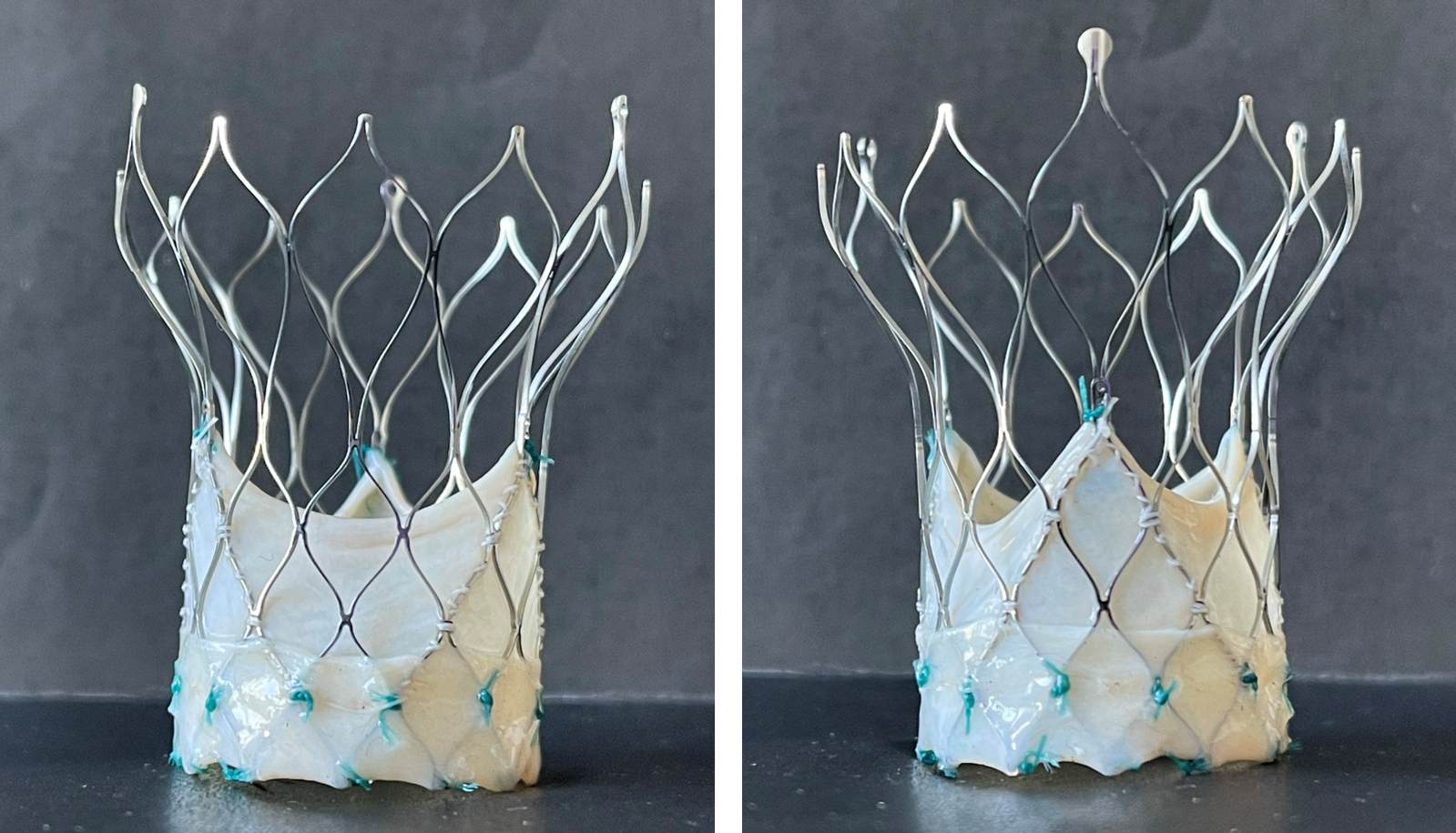 Hydrodynamic characterization was done according to ISO 5840-3:2019 in a pulse duplicator system or with a pulse duplicator system combined with a PIV-set up. A commercial available TAVR (Portico, Abbott) was used as reference valve.
RESULTS:
The tested TAVR satisfied minimum hydrodynamic performance criteria set by the ISO standard for the given implant diameter and annulus models. Systolic pressure drop ranged from 12.1mmHg to 16.9mmHg, effective orifice area from 1.6cm² to 1.9cm² and regurgitant fraction from 5.0% to 7.5% depending on mean aortic pressure and annulus model. Using PIV, hemodynamic similarities between TAVR-prototypes and reference TAVR were identified. During peak systole viscous shear stress remained below 3.23 Pa (prototype) and 6.68 Pa (reference) thus being lower than the known threshold for platelet activation and red blood cell damage. Therefore, it is unlikely that shear-induced platelet activation takes place during systole.
CONCLUSIONS:
These are promising results suggesting decellularized pericardium based TAVR-prototypes hold potential for engineering of a new generation of regenerative heart valve prostheses, which will be assessed in pre-clinical animal models in the near future.
---
Back to 2022 Abstracts